AoS.Health
Implementation Infrastructure Services (AHIIS)
The Entuura AoS Implementation Infrastructure (AHIIS) is a program to provide a consistent and reference ICT environment to host complex digital health projects and systems.
This project is specifically aimed at the challenges faced by Government Ministries (especially Ministries of Health) to operate ICT in a sustainable and sustained manner.
The ecosystem of digital tools required to launch most nationally-relevant projects are complex and need a lot of diverse skillsets to design, deploy and manage. AHIIS aims to provide scalable solutions via a Platform as a Service (PaaS) offering to customers/stakeholders so that they can focus on the public health objects served via digital health tools, instead of the technical complexities of operating infrastructure themselves..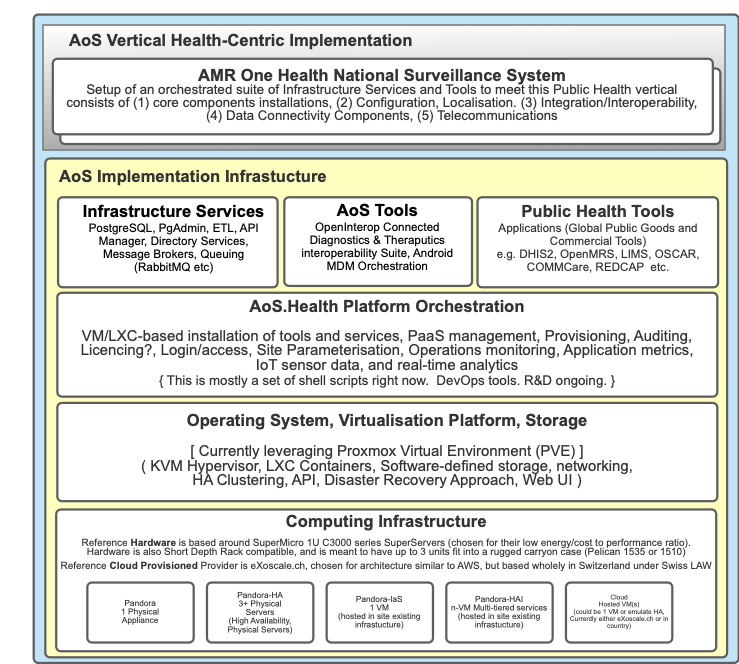 AoS Technology Architecture
Easy to deploy technology stack based on open source reference tools from the OS upwards
SaaS Platform:
Deploy one or more tools for an objective, rather than one application

Orchestrate for Integration

Scale from a single appliance to High-Availability Cluster with failover to Disaster Recover site

Consistent means to deploy complex software into the AoS.Health platform eco-system

Focus on the digital health 'global public goods' tools

Allow private sector integrations especially for connected diagnostics cDX, LIMS & other commercial software systems, and medical-focused tools

Designed for national level, high secure, high volume and availability implementation.
A turnkey system
The AoS Platform is based on our evolving reference architecture using our favourite platform components and software tools.
Hardware configurations include:
a rapidly deployable server (known as Pandora)

high availability (HA) multi server configuration with 3+ server, software defined storage (CephFS over ZFS), provisioning and monitoring.
all with accompanying technical support and capacity building services. The platform supports VMs and Linux containers offering software engineer-friendly environment for deploying multiple services based on popular frameworks such as Docker and Kubernetes.
Systems are also delivered with:
integrated UPS and environmental monitoring

short-depth server hardware for easy transport

MIL spec and up to IP 55 ruggedised rack integrations also available.